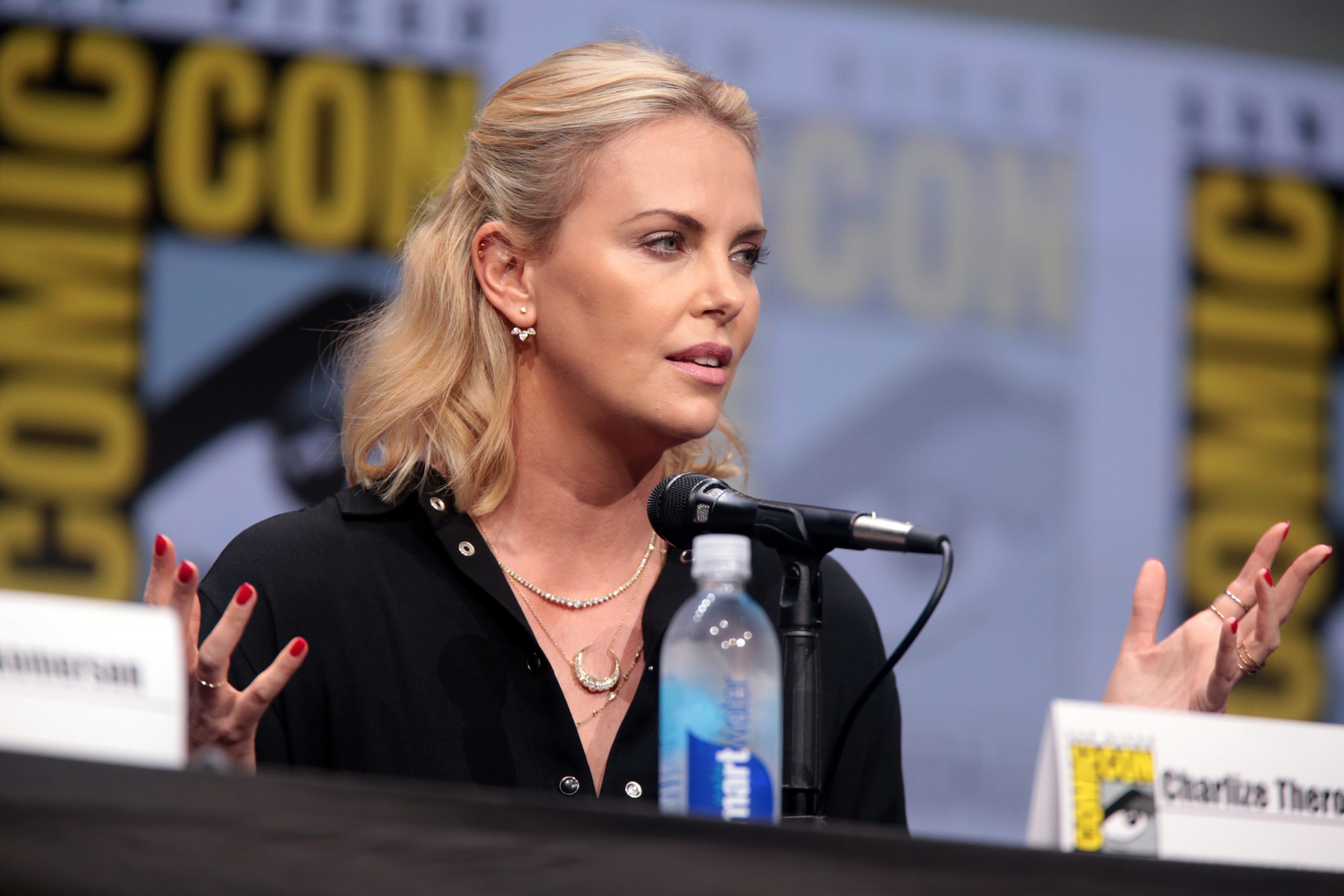 Charlize had a couple amazing quotes about her workout to play Imperator Furiosa in Mad Mad: Fury Road:
"I like feeling capable. In my twenties I never worked out because I hated the idea of going to the gym but then you get older and you start losing muscle tone and feeling weak and you go, 'oh, so wait, that's what that's about'. It's not about having a 23in waist, it's about feeling strong and capable. I like that I can pick up my almost 50lb kid and throw him in the air." [The Independent]
"I am not a fan of scrawny little girls pretending to kick butt in movies. I just don't buy it. I hate those moments in movies where the tiniest little arms are hitting a guy who is four times her size. We are supposed to believe that that happened. So the physical part for me was just for my own truth." [Inquirer]
A couple things are super rad about Charlize Theron getting in shape to play Furiosa, but the biggest is that she just wanted to look believable as a badass.
What we know: She did a lot of upper body strength training and yoga inversions.  Since inversions are getting so popular lately (see: Instagram) I thought it would be fun to collect a few great resources on getting your upside down on:
Getting Started with Yoga Inversions:
This video is a really amazing, quick run through of your very first steps of inversion practice.  Pick *one* of of the steps — whichever one you can totally own, and work on that for a month.  Then, move to the next one.
Tara Stiles has a great progression for tripod-headstand, handstand, and forearm-stand.  I thought these were some of the smartest and simplest progressions I've ever seen on YouTube for these inversions.
Just taking a look at the first two is really great:
Tara's Tripod-Headstand Progression
Kneeling Tripod
Pike "Downward Dog" Tripod
Hips Over Shoulders Pike Tripod
One Knee Tuck Tripod Headstand
(Two Knee) Tuck "Cannonball" Tripod Headstand
Full extension Tripod Headstand
Tara's Handstand Progression
Single Leg Downward Dog Rocking Forward and Back
Standing Split Rocking Forward and Back
Rock up into split handstand stall
Split handstand
Full Two-legs Together Handstand
I made up names that I thought made sense for that progression in the video.
GMB's Handstand Conditioning
I'm a huge fan of all things GMB for building movement skill and learning fun bodyweight tricks.  Their handstand conditioning program is really killer:
That tutorial includes:
Wrist Warmups, Flexibility, and Strengthening
Shoulder Flexibility and Strengthening
Scapular Mobility
Hollow Body Hold Conditioning
Handstand Breathing
Head Position in Handstand
A Four Phase Handstand Conditioning Program
It's a complete program for handstands to go with the yoga progressions and flow above.
It can take an extraordinarily long time to get your first handstand, but these programs will get you on the right track.
GMB Breaks down Crow Pose and Crane Pose
The simplest and easiest way to learn Crow I've ever seen:
And then if you're advanced: Crane
Mad Max, Furiosa, and Inversions
Normally talk about kettlebell and bodyweight workouts from a purely fat loss perspective here.  With as awesome as Mad Max: Fury Road was, and with Charlize Theron talking so much about doing inversions and arm-balances to get ass kicking arms for the role of Furiosa, I thought it would be fun to put together some resources to get you started.
And, obviously I'm not a yoga or gymnastics teacher, so it made more sense to collect some stuff from other people who put together great stuff.  Tara Stiles I don't know at all, but her inversion progressions above are genius.  The GMB guys I've met (Andy and Jarlo, haven't met Ryan yet), and I've done a few of their programs.  Their stuff is awesome end to end.
So try these out, and let me know what you think!  Hopefully inversions and arm balances make you feel all the post-apocalyptic desert action badass you're looking for!
-Josh Hillis
Josh, with Dan John, authored Fat Loss Happens on Monday, is a writer for Strength Matters Magazine, and speaks all over the United States, teaching trainers how to do habit-based fat loss coaching.