Ok, so I'm a huge Star Wars nerd, and loved the Force Awakens.  Holy freaking awesome, how did I miss this!?!?!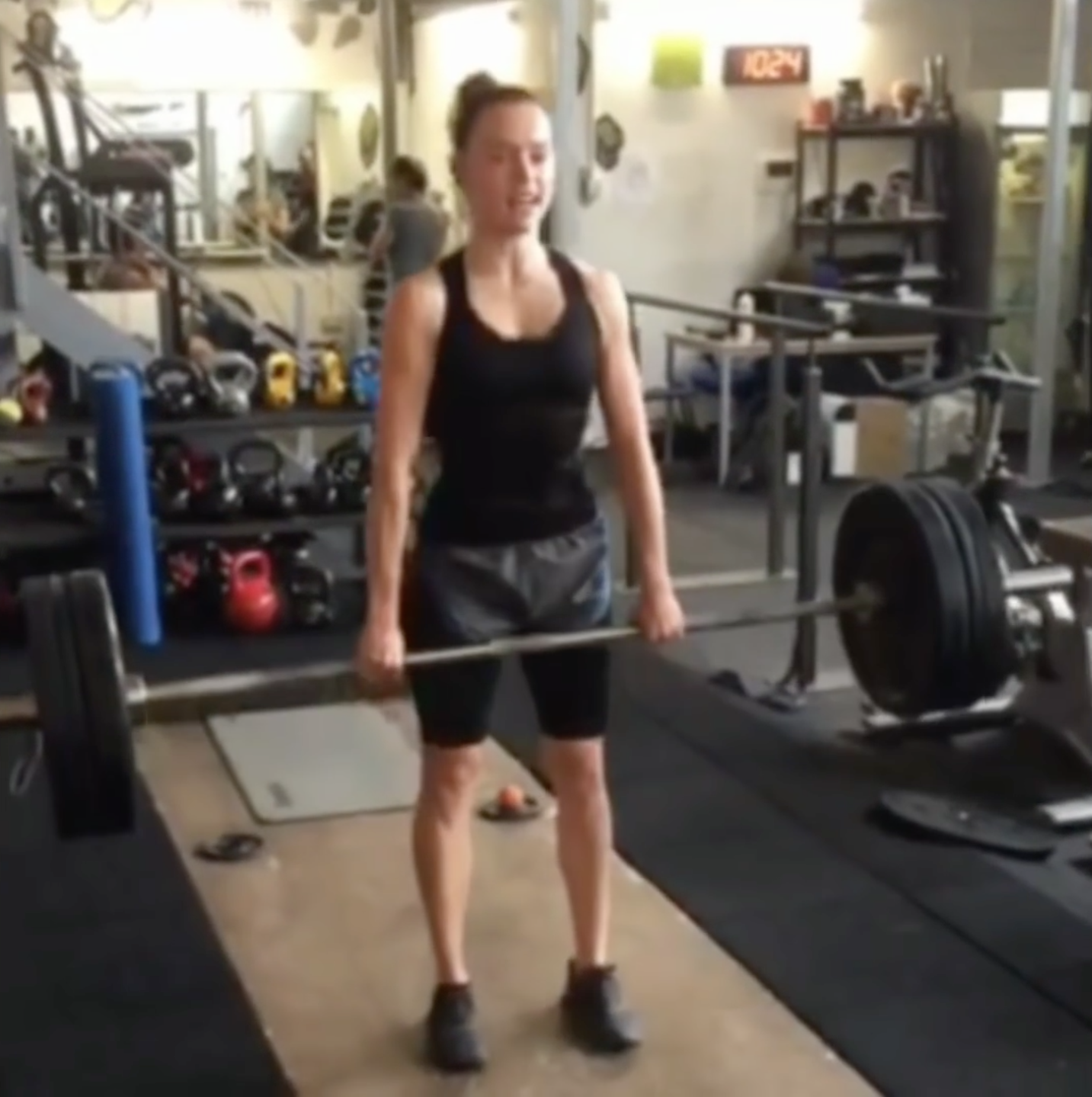 Daisy Ridley, who plays Rey in The Force Awakens not only lifts like an athlete, but also has an wonderful and amazing perspective on working out and body image.
Here is what she said:
@daisyridley: I don't know if #fitnessfriday is a thing(?!) but HERE'S MINE! Lifting 80 kilos/176 pounds feeling like an absolute boss. ??? Initially I had to pack on some muscle to look like a desert scavenger, but have continued working out because it makes me feel really good. The female form is beautiful in all shapes and sizes, whether that's athletic, straight up straight down or curvy; you just have to do what makes you feel good, try not compare yourself to other people and LOVE YOURSELF!!! As it stands I'm of the athletic variety so I'm gonna keep pumping those weights ??? #girlswholift
She's got such an amazing, healthy, fun, strong perspective.  And she's doing some legit lifting.
And then check out this video of more of her workouts:
The Workout Moves We Get to See:
Deadlifts
Lunges
Lunge with Rotation
Body rows
Dumbbell bent over rows
Suspension trainer curls
Jump squats
More jump squats
A really, really hard longer plank hold variation
Climbing gym
Fight training
Daisy Ridley is doing big compound strength movements.  She's training like an athlete.
And it looks fun =)
We see a mix of:
Low rep strength work — Deadlifting 176lbs for two reps
Medium rep strength work — The body rows, the dumbbell rows, the suspension trainer curls
High rep strength work — It looks like she's doing the squats and all the jump squat variations for fairly high reps, and the side to side hops for really high reps.
What You Can Takeaway
Do big movements: pushing, pulling, squatting, luging, and deadlifting
Do a mix of high reps, medium reps, and low reps.
Do athletic stuff: Climbing and fight training
Have some explosive movements in your program: Learn how to jump and land
Basically, train like an action hero!  I'm so stoked that Daisy Ridley trained so athletically, and is so totally cool about how she looks at training and feeling strong.
And, if you aren't one of the zillion people who's already seen The Force Awakens, check it out.  I was so stoked that they made a Star Wars movie that made me feel like when I was a kid.  And no, I don't care that they repeated so many elements it felt like I re-boot.  I absolutely fell in love with the characters of Rey, Finn, and Poe.  I jumped out of my seat when we got to catch up with Han and Leia.  If you want to seriously nerd out with me, catch me on the Facebook Group.
—Josh Hillis