We know that diets cause a bunch of problems: First, they don't get long-term results for the majority of people. Second, the ruin your relationship with your body. Third, they ruin your relationship with food. And, did I mention they don't get long term results?
Basically, diets create a cycle of failure. I've creatively named it, "The Diet Cycle of Failure."
And, that's why we (instead) work on guidelines and skills like putting the fork down between bites, not snacking between meals, distinguishing hunger from stress, learning how to mange stress without food, and so on. Because those skills are the things that actually make a difference for the results people want.
That opens up a question: Eating skills are cool and all, but what do I eat?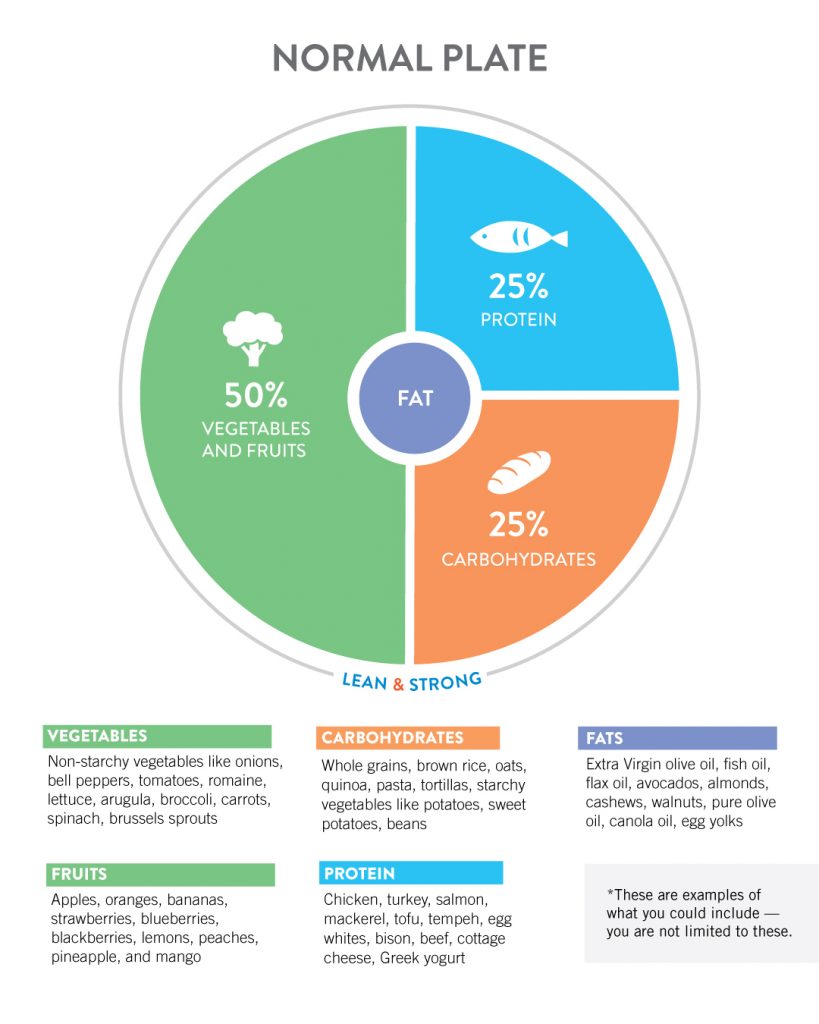 Plating Balanced Meals
It turns out, we can solve most of the "what to eat" question with a simple plate guideline. The Lean & Strong Eating Plate is in the graphic above, on the left.
The plate guideline does a few things:
You get enough vegetables and fruit to feel full, and get those healthy vegetables and fruits
You get enough protein to feel full, and gain strength
You get enough carbohydrates to notice you're full during meals, and to have energy for workouts
You get enough fat to stay full between meals
You may notice a theme: It's about feeling full
I've had clients remark that eating a balanced meal is like a "cheat code" for hitting their goals.
On top of that, it makes a lot of sense from a health perspective. The plate guideline has a lot in common with Harvard School of Public Health's Health Eating Plate, but if you want the full nerdy version of where this version came from, you can find it here: What Should I Eat? Three Science-Based Plate Guidelines
How Fullness Works
Again, there's no magic The "spirit" of the plate guideline is just fullness. So, let's look at how fullness works.
During a meal, the things that will have you feel the most full:
Protein
Vegetables (fiber)
Carbohydrates
Most of feeling full during a meal has to do with the stretch reflex of your stomach. There are some hormones involved, like grehlin (dropping) and CCK (increasing), but let's not complicate it. Vegetables, protein, and carbohydrates all take up space, increase stretch reflex, and have an impact on fullness related hormones.
Fat doesn't take up much space, relative to it's energy density, so it's not very helpful with feeling full at a meal.
Between meals, the things that will give you the best shot at staying full:
Fat
Vegetables (fiber)
Protein
Between meals, it has a lot to do with how slowly your stomach empties. There's also some hormonal stuff, like CCK, GLP-1, and PYY, but again, let's not overcomplicate it. Fat, vegetables, and protein all empty pretty slowly, increasing how long it takes to get hungry before the next meal.
Carbohydrates empty more quickly, so they don't have as big of an impact on satiety between meals.
The short answer is to simply eat mixed meals, with protein, vegetables, carbohydrates, and fat. Balanced meals, like you've probably heard your whole life. Weird, right!?!?
The Difference Between Guidelines and Rules
Under normal circumstances, use the plate guideline from the Lean & Strong, that you saw above. April and May, with a pandemic, have been pretty crazy though.
Folks have been in all different kinds of places. Some places, meat is being rationed. Other places other stuff at the store is intermittently unavailable. Some people have lost their jobs or are now underemployed. It may be extraordinarily difficult to get a plate balance that would have been easy in normaltimes.
For some folks, food availability is getting more back to normal (as I write this) for others, there are still things that are way harder to get than usual.
This exposes the fragility of diet rules — if the plate guideline was a rule, you'd just quit everything. Quit now, and start over later after the pandemic is over. Which also shows that diet rules are basically about quitting.
With a guideline, you look at what the spirit of the guideline is — to make a plate that has you feel full.
So, you might be (or have over the last month been in) a place where your available options for making a plate that has you feel more full might just be:
Try and get carbohydrates with fiber
Try and get some protein or some fat sometimes
And maybe that's it.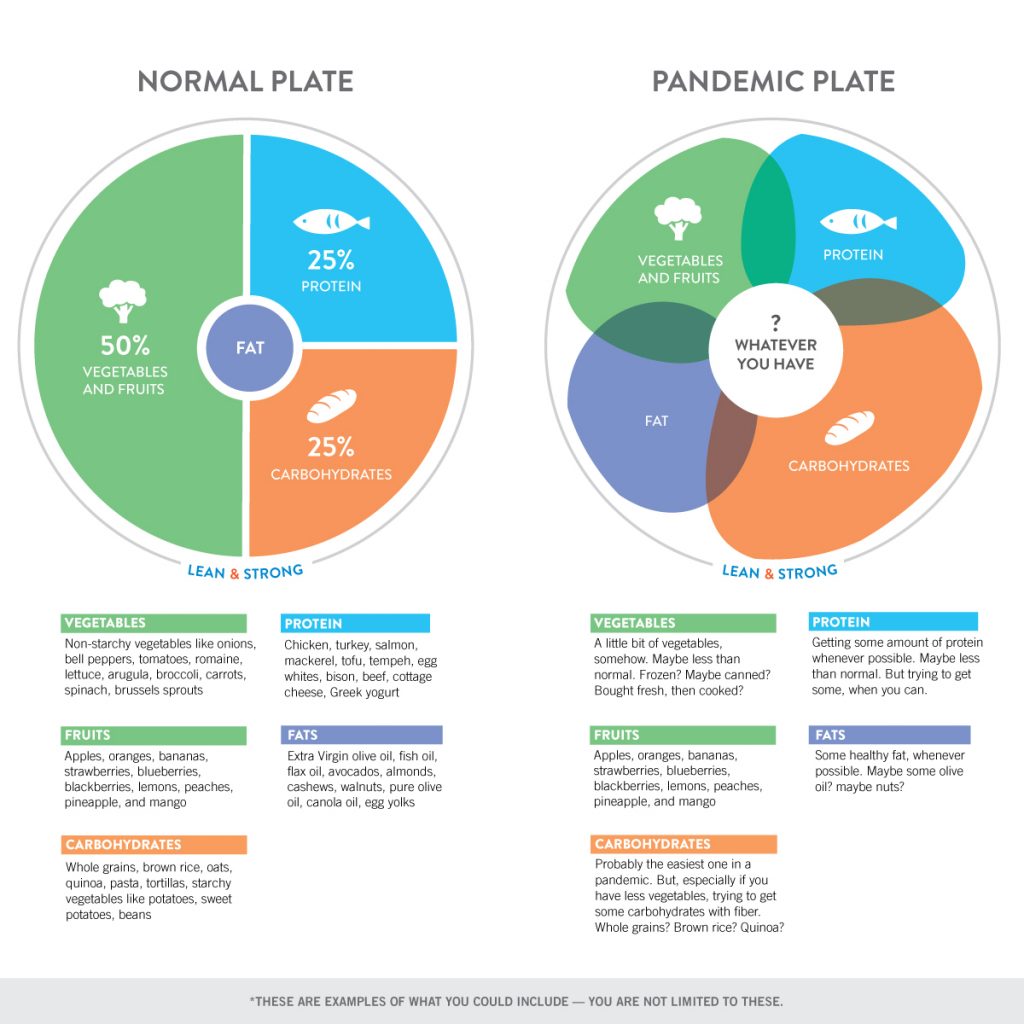 In normaltimes, we probably wouldn't count beans as a protein. In pandemictimes, sometimes we might. It does have a little bit of protein, and it has lots of fiber — if you're trying to have a satisfying meal and it's what you have available, it's a smart play.
We're trying to make the best choice you can, out of the choices that are actually available to you right now.
And that can change week to week right now.
Again, if you're in a place where your access to food is totally normal, then for sure rock out on the normal plate guideline. If things are weird right now, you might be using the pandemic plate guideline. Or it might be somewhere in between. A guideline is about understanding it's purpose, or "spirit" and pursuing that with what you have available at any given time.
This is Just One Example
You can make decisions at different times based on:
What's available
What the situation/occasion is, and how unusual it is
What your values around food are
So, what to eat is a always a moving target. You always have the option to adjust based on a situation.
The point of a guideline is so you don't always have to be thinking about it. Having a default makes like a lot easier. But it's a default, not your only option.
Balance of Simplicity and Flexibility
You want to have guidelines so that you have simple and streamlined tools to get the results you want. You also want the flexibility so that it can continue to work for you through the normal ups and downs of life.
A balanced plate can make it much, much easier to learn more advanced skills like noticing and stopping when full, and distinguishing hunger from stress. Learning skills for checking in with your body can be hard, but it's a lot easier if we have meals that are filling and satisfying, to start with.
You have different options for how you could start with a plate guideline:
Add vegetables
Add protein
Take a look at fat intake (too much? too little?)
Take a look at carbohydrate intake (too much? too little?)
Jump right in to a full balanced plate
Any of those five options are effective places to start.
After you've played with this plate guideline for a couple weeks, feel free to tweak it for your individual needs. It's just a starting guideline.
—Josh Hillis
Author of Lean & Strong: Eating Skills, Psychology, and Workouts
Creator and Head Coach: GMB Fitness Eating Skills