No description could really be more accurate, and really no better crew than Girls Gone Strong to put it together.
When I first saw my review copy, I emailed Molly and said this:
"LOVE the product!!!  I'm really, really, really stoked 'cause it's so my style, it's such a good fit for my readers.  I'm kinda locked into writing kettlebell/bodyweight products, your product it like the great gym workout that I'd love for my readers to have.  Really awesome work, really great product, there's actually too many things I love about it – from the core work/breathing, to the workouts, to even just having clamshells and band walking in there…   and like squats, deads, ect, 'cause obv.   Anyway SO MUCH awesome.
It's rare to get a product that's everything that I believe in, but nothing like anything I've written — I could not possibly be more stoked to share this with my readers."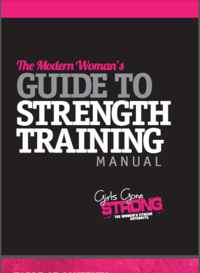 I was going to try and re-write that to make it sound more like a blog post is supposed to sound, but I'm about to move to Denver tomorrow, so I figured hey, I'll just copy and paste my feedback to Molly!
And that's really it.  It's the program I'd write for you if you had access to a full gym with all of the toys.
There would be a lot of stuff we'd do that wouldn't be kettlebells.  Basically we'd use the exact right tool for every job, every time.  And sometimes that's a kettlebell, sometimes that's a dumbbell, sometimes that's a barbell, and sometimes that's a cable machine.
She hits a lot of stuff that makes me nerd as a trainer — like the dynamic warmup that will un-desk-posture you pre-workout.  It's the pre-hab that pretty much any woman over 30 needs to do, every workout.
On top of that, I love Molly's exercise selection.  She's got the optimal workouts to do with:
Kettlebells
Barbells
Dumbbells
Ropes
Sleds
Cable Machines
And she lists options to substitute those.  If your gym has at least half of those, you'll be stoked.
Who It's For
If you have a gym membership, and want a program that takes advantage of everything you have access to.
You can get a better, more effective workout, using all the right tools at the right times.  This really is the Modern Women's Guide to Strength Training — use everything the modern gyms give you, in a really intelligent way.
Who It's Not For
Someone working out at home (unless you have a rocking home gym with at least kettlebells/barbells or dumbells/barbells).
Don't get me wrong, you could totally do this workout at home.  But where it really shines is for someone that does have a gym membership and can use more than one tool.
Also, not really for dudes =)
You and This Program
2014 has been a great year for women's workout programs.  From Neghar's kettleblel program, to Jen's conditioning program, to now Molly's/Girl's Gone Strong's gym program.
Molly is really smart about what women need out of their strength training, all the way down to female specific cues on each exercise.
If you're a woman, and you workout in a gym, this is probably a great program for you:
Modern Women's Guide to Strength Training