Three out of the four things are awesome.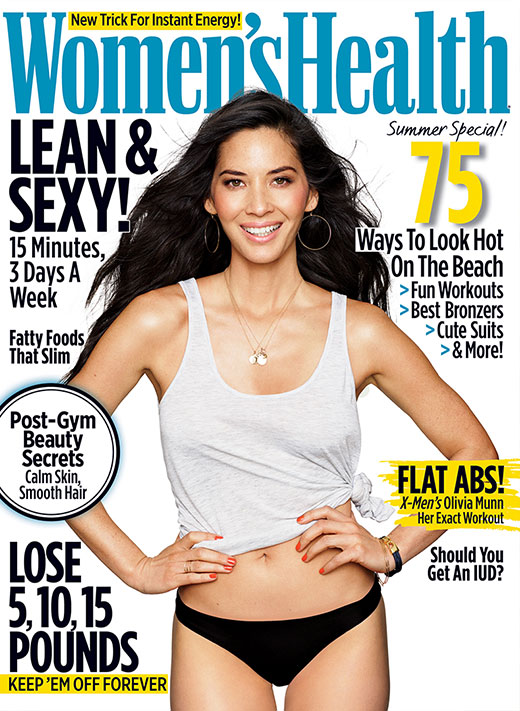 Olivia Munn's article/interview/photo shoot for Women's Health this month is totally great, except for one thing. Lets go through it step by step.
One: Olivia Munn
First off, let me say that Olivia Munn is one of my favorite actresses on the planet.  With all of the fight training she's been doing, she is going to be totally badass as Psylock in X-Men: Apocolypse!
Verdict: Awesome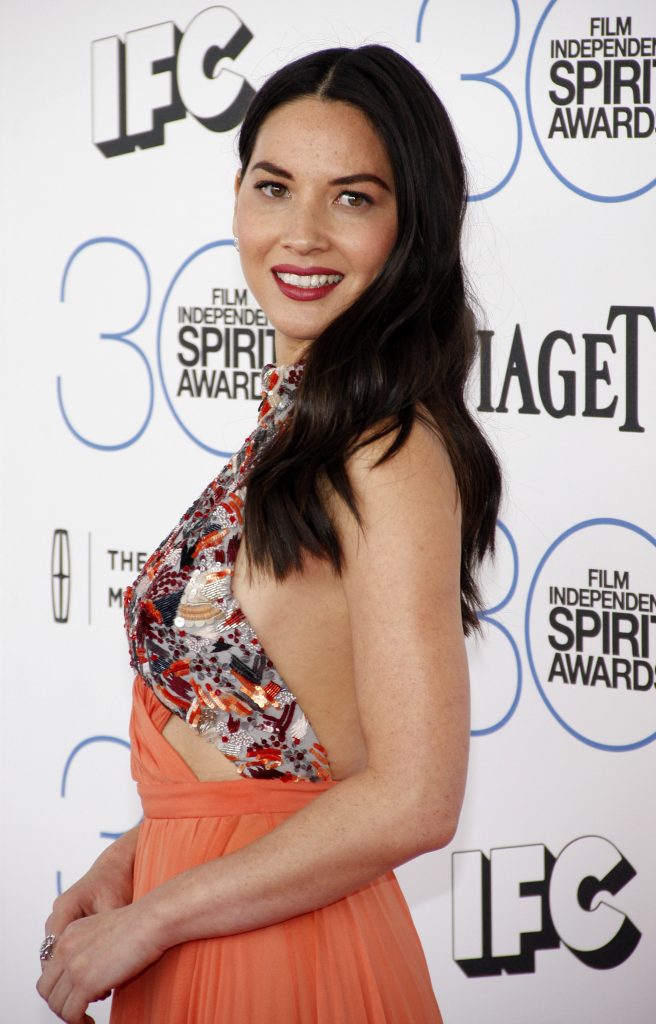 Two: Psylocke
I haven't seen X-Men Apocolypse yet, but apparently the battle between Psylocke and Beast at the end is super epic!
Any character that's that badass at martial arts and can create a sword with her mind gets a double thumbs up around here!
Verdict: Awesome
 Three: Eating 80% Fruit and Veggies
The media went crazy with the story that Olivia Munn lost 12 pounds getting in shape to play Psylocke by eating 80% fruits and vegetables.  It became a new "fat loss magic bullet" headline, which is a bummer.
Look, my good friend Georgie Fear, who's a Registered Dietician and author of Lean Habits, has already outlined what you'd be missing, nutritionally, in an 80% fruit and vegetable diet:
http://askgeorgie.com/olivia-munn-looks-amazing-but-80-fruits-and-vegetables-is-a-terrible-idea/
So, you can take the Registered Dietician's word for it on that.
Verdict: Not awesome
Four: Fight Training
I'd like to take a minute to talk about the 6 hours per day of fight training.
6 Hours Per Day of Fight Training
It's pretty badass, right?
There's no question Olivia Munn is going to be really legit in her fight scenes, because she can actually do all of those moves in real life.  She already had a black belt in Karate.  And then, on top of that, she did 6-7 hours of fight training per day to prepare for her role as Psylocke!
Verdict: Awesome
6-7 Hours Per Day of Fight Training and Fat Loss
Here's the thing about doing 6 hours per day of fight training — pretty much everyone loses weight.
You're talking to someone who's done it: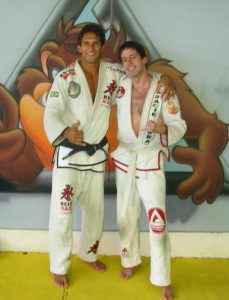 This was me at Gracie Barra, long, long ago.
We trained 6-8 hours per day, five days per week, and all lost a ton of weight.  I lost 15 pounds in two months.
If you're wondering what my diet was, it was like this:
Breakfast: Fruit, bread, juice
Lunch: Chicken, feijoada (black beans and pork), salad, rice
Lunch #2: Açaí bowl + Cuba Libre (rum and coke)
Dinner: Steak, rice, beans, salad, Cuba Libre (rum and coke)
Dinner #2: 1/4 bag of Oreos.
Weekends: Caipirinhas, Cuba Libres, and 4 big meals.
And really, I lost 1.5 pounds per week, eating that: Way too much food, alcohol, oreos, and so on.  No one would call that a fat loss diet, by any stretch of the imagination.  But that many hours per day of working out…
I often say you can't outwork your diet.  Yet, I've found that there's a break-point around 6 hours per day, where that's no longer true.
Note: I didn't get those same results back home doing Brazilian Jiu Jitsu 3 hours per week.  But when that kicked up to 35 hours per week, everything changed.  There's a possibility at that many hours per week of working out that you can – or maybe have to – eat way more than normal, and be able to get away with nearly any quality of food.
Diet or Workout?
The repeated theme of this blog is to work on your food habits, because you most people can't get in enough working out to lose much weight.
Again, 6-7 hours per day is absolutely enough working out to lose weight.  Working out like it's your full time job is a game changer, and can absolutely counter act even the dumbest of diets (again, see my Brazil diet, above).
It's just about 10 times more workout time than most people can fit into their lives, most of the time.
We Love Fruits and Veggies
Don't get me wrong, though — almost everyone loses weight eating more fruits and vegetables.  More vegetables = more fulness.  More fruit also, usually = more fulness.  Plus, super healthy.
That being said, there's a point where it gets silly.
The old plate method works really well:
1/2 plate vegetables
1/4 plate carbohydrates
1/4 plate protein
1 teaspoon – 1 tablespoon fat
So, if you look at that, that means that a lot of your plate is veggies!  But we're still getting an almost even balance of energy between protein, carbohydrates, and fat.  That's where most people feel the most full.
We Love Olivia Munn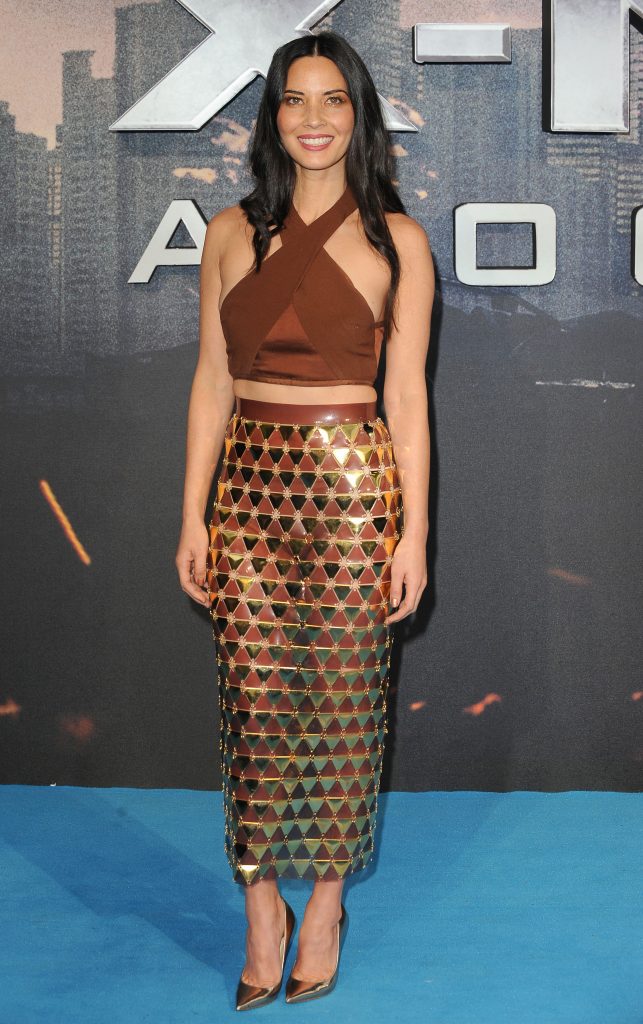 I think everything about Olivia Munn is pretty badass — how she talks about turning down the role of playing the girlfriend in Deadpool, to play a martial arts badass in X-Men.  And how she wants to actually do X-Force, where she can fight side by side with Deadpool.
Also love how in the interview she talks about how it's all about getting to work with great people.
Lastly, I just love how totally human she seems in interviews.  Olivia comes across as totally down to earth and a very cool person.  Who is also a badass with a sword =)
We Love 80/20
I love the idea of eating 80% "on plan" and 20% "off plan" as sort of a metaphor for eating well long term.
The basic idea is amazing:
Mostly eat stuff that's obviously balanced and healthy
Leave some room for social events and date nights and stuff to eat stuff that isn't balanced or is low nutrition
What To Learn From Olivia Munn's Psylocke Workout and Diet
If you workout 7 hours a day, you'll lose weight
Fruits and veggies are super awesome
If you've read this blog for the last ten years, you can fill in the rest:
If you don't workout 7 hours per day, nail your food habits
Balanced, obviously healthy meals work to have you feel more full and satisfied
If you eat less calories, you lose weight
Workout to be a badass, and you'll get leaner: Strength training is awesome, fight training is awesome
EDIT: I wrote a followup article: What If I Was Wrong?
by Josh Hillis
Author, Fat Loss Happens on Monday
Food habits coaching expert, Strength Matters Magazine and Strength Matters Summit