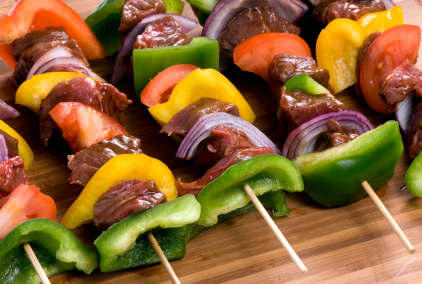 By Jenna Shannon
author of 7 Steps to Paleo 
When I was a kid I used to look forward to the Sunday afternoon grocery store trips with my mom. She would write out a list, together we'd fill up the shopping cart, and that was the end of it until the following Sunday.
When I visited my grandparents, I observed a completely different method of grocery shopping. My grandfather would come home each evening with a small bag of supplies. Sometimes the bag contained things like bananas and milk for breakfast, other times it was lettuce and cucumber for the dinner salad.
Now, as a Paleo eater, I've discovered the best shopping schedule is somewhere in between. If I shop just once a week, I inevitably end up wasting food, no matter how carefully I plan. If I shop too often, I get burned-out on all the trips to the store.
These are the 5 guidelines I use for successful Paleo food shopping: 
Shop for perishable items 2-3 times per week
Since many Paleo foods are perishable, if you try to buy them all in one shopping trip, you'll end up wasting food. It happens to the best of us. Instead, plan one weekend trip and one or two mid-week trips to the store. Buy enough perishable items for a couple days.
Shop from a variety of online resources, community supported agriculture programs, local stores and farmers' markets.
Finding great food can be fun if you mix it up and use a variety of resources. Farmers' markets and community supported agriculture programs are great ways to save money (you can find a CSA at http://www.localharvest.org/csa/). Do some investigating and you'll develop a system. One of the best resources is a small store you can stop by to quickly pick up a couple items like salad greens and a tomato.
Plan a flexible menu
Shopping with a list is a good idea as long as you're flexible. I usually go into the store thinking, "meat, fish, eggs, vegetables, fruit, nuts…" and then I see what looks good and what's on sale. It makes Paleo shopping more of an adventure!
Shop during quiet hours
This has become a priority for me. Regular trips to the store aren't a big deal as long as they don't add stress to the day.
Your back-up plan will come in handy if you run out of perishable items. Having some frozen or jarred items on hand is a good idea.
Your shopping schedule will become second nature after a couple weeks. Paleo can be as simple or as creative as you choose. The best part is, you don't have to decipher food labels!
By Jenna Shannon
author of 7 Steps to Paleo