I'm a big fan of shorter, faster, harder cardio. Here Will rows 500 meters in a wicked fast 1:40. Think you can beat him? I get a kick out of checking out my client's times agains the fastest times at Concept2.com. According to C2, there are only 11 people in Colorado faster than Will at 500 meter intervals.
The three biggest mistakes people make doing cardio:
1.) Too long.
2.) Too slow.
3. Too easy.
This workout should fix all three.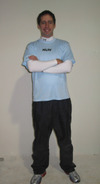 By Josh Hillis
Author of How To Lose The Stubborn Seven Pounds: Take Your Body from Good to Rockstar.
National Academy of Sports Medicine Certified Personal Trainer (NASM-CPT) and Performance Enhancement Specialist (NASM-PES),
and currently studing the Corrective Exercise Specialist (NASM-CES)˚ credential.
Russian Kettlebell Challenge Certified Instructor (RKC)* and Combat Applications Specialist (RKC2/CAS)
*RKC certified 2004-2006, registered to recertify 2007
˚NASM-CES will be completed 2007

© Joshua Hillis 2007