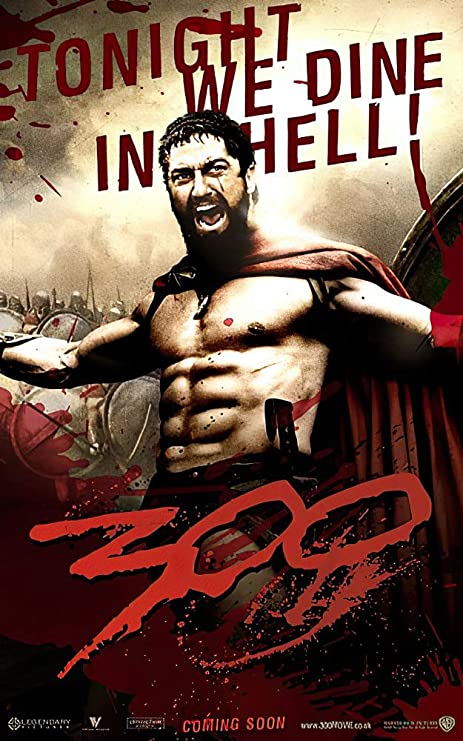 This week I had all of my clients do "300 reps", just for fun.  We "scaled" 300 different ways so that everyone could do it.  When I say scale, I mean that we cut the weight, the reps, or even slightly changed the exercises so that it would be the appropriate challenge for everyone.

*One important note about scaling a workout like this:  You can cut down the intensity, but don't change the intention.  In the back of the Men's Health article, Gerard Butler's current trainer (in other words, not the guy that trained him for the movie) mentions you could start with 100 reps and build up – this is a smart way to scale the workout.  He also mentions you could substitute dumbbell curls – this on the other hand, is missing the point of the workout completely.  Dumbbell curls are an isolation exercise, where all of the movements in the 300 workout are full body compound movments.
If you go to the Gym Jones website (and you should), you'll notice that all of the workouts they do are made up of full body, compound movements.   For those that don't know, Gym Jones is the gym run by Mark Twight, where all of the actors from the movie 300 trained for two months solid prior to the movie.  So some of you may be asking, what is a full body compound movement?  I'm glad you asked:  Squats, deadlifts, pullups, pushups, kettlebell cleans, kettlebell snatches, overhead presses.
If you've ever done a heavy deadlifting or squatting workout, you know that it feels completely different from a day when you did heavy leg extensions.  If you do a hard pullup day, it's totally different from doing a hard bicep curl day.  If you really want a body like a Spartan Warrior – you need to be on a first name basis with squats, deadlifts, pullups, and overhead presses.   You'll notice two things that all of these exercises have in common is that they: 1.)  Are technical lifts (they require knowing what you are doing), and 2.) They're really f**king hard.
I'm going to assume you know how to do pullups and pushups.  If you don't know how to deadlift, you need to learn.  I strongly recommend Power to the People, by Pavel Tsatsouline as one of the best books/videos on how to deadlift there is.  Deadlifting isn't easy or simple, but it's worth it.
The 300 workout, as it was done by the actors:
"300"
25x Pull-ups
50x Deadlift @ 135lbs
50x Push-ups
50x Box Jump @ 24" box
50x Floor Wiper @ 135lbs
50x KB Clean and Press @ 36lbs (KB must touch floor between reps)
25x Pull-ups
300 reps total
Andrew Pleavin, who played Daxos the leader of the Arcadians, did 300 in 18 minutes.  Savage.
Here is how I scaled it for my strongest clients:
25x Pull-ups
50x Deadlift @ 100lbs
50x Push-ups
50x Box Jumps @ 12" box
50x Knees to Elbows
50x Kettlebell Clean and Press @ 36lbs
25x Pull-up
300 reps total
Will did this version of 300 in 52 minutes, Jeff did it in 45 minutes.
I took 300 a couple more steps down for my newer clients:
12x Assisted Pull-ups
25x Deadlift @ 70-90lbs
25x Push-ups
25x Box Jumps @ 12" box
25x Sit-ups
30x KB Clean and Press @ 18-26lbs
12x Assisted Pull-ups
154 reps total
So this is a look at how a workout like 300 could be scaled to different levels of clients.  All of my clients could make it through the last version.  The important thing was that we preserved the movements, or with the one exception being the "floor wipers", we preserved the intention of the movements.
Mark Twight mentions on his website that "300 reps" is not a program.  It's not the workout that the actors  did.  It was a one time test.  Possibly a rite of passage.  In fact, in the style of Mark's training, they most likely never did the same exact workout twice.
On the flipside, I'll have my clients repeat this kind of workout.  While the actors and crew from 300 had each other to compete with, I work with clients on a one on one basis.  They only really have themselves to compete with.  So we may repeat a workout like 300 again in a month – with the very powerful motivation of doing it faster.  Getting a better "score".  Or if not faster, then doing with heavier weight.
Mark Twight says that he has no patience for assisting non athletes in losing weight.   Their mantra for the movie was that appearance would be a function of fitness, and not the other way around.  So essentially, they trained to have the fitness level Spartan Warriors, and the body and the look came with it.  Mark Twight runs a gym that trains athletes.
I come from the opposite direction, but in with similar methods.  I'm a specialist in getting people lean.  I don't really train people for sport, per se.  My clients come to me because they want to look like rockstars.  I train them like athletes simply because I've found that is the best way to get them the body they want.
If you want that body and that strength, you must do full body athletic movements, like deadlifts, squats, kettlebell clean and presses, pullups, ect.
If you haven't been to the gym Jones website and read Mark Twight's article: 300: The So Called Workout, you have to check that out.  Straight from the source.  In fact, if you really want to get a flavor for the training, I recommend reading the entire knowledge section of the Gym jones website, and to watch all of the videos.  It's the next best thing to driving out to Salt Lake City and standing on the porch.
Also check out: What happens when girls do 300?
You can read my first article on the 300 workout here: Frank Miller movie 300 actor training – The 300 Workout
By Josh Hillis, RKC Level 2 kettlebell Instructor
P.S. One of the best fat loss workouts I've ever written is called Fighter Workouts for Fat Loss, and is now available in Kindle format for under $3
I'm a specialist in getting my clients lean, fast.  My book is about how anyone can get that that lean, rockstar body.
© Joshua Hillis 2007